Module I
Introduces the core concepts of clinical aromatherapy using touch and smell, emphasizing its place within the history of medical therapies, plus different clinical application methods, safety, and basic plant taxonomy. Details on how to take a clinical case-study & generic consent forms. Introduction to The 'M' Technique® on the hand. Ten essential oils are covered with evidence-based, research-backed material.
Module 2:
Outlines the chemistry and main functional groups found in essential oils, the aroma-togram and essential oils in infection. Also covered is biosynthesis and special carrier oils. Ten new essential oils.
Module 3:
Emphasizes key concepts in the clinical use of essential oils and their potential use within a health care framework with specific reference to immune system, cardiovascular, respiratory, stress, digestive, lymphatic, endocrine, and muscular-skeletal. Tutorials on research projects. Ten new essential oils.
Module 4:
Clinical use of essential oils in women's health, pediatrics, elderly, pain & palliative care and mental health. Ten new essential oils. Clinical policies and procedures are discussed. Oral presentation guidelines. Exam prep.
Length
The course comprises four modules, each one over two days, usually a weekend. The weekends are spread out over approx. 12 months. Each module is usually 9 am - 5:30 pm making up 68 taught hours plus 216 hours of student effort. In special circumstances a missed module can be made up by arrangement with the instructor. The modules must be taken in consecutive order.
Homework & Exam
There is homework in the form of 40 case studies, one for each essential oil covered. These need to be completed between modules and presented in class. They give the student an ongoing practical experience of using essential oils in a clinical way.
Exam
The exam is in 2 parts – a written test and presentation of a small research project – both parts are externally assessed.
Certification
Certification as a Clinical Aromatherapy Certified Practitioner (CCAP) is awarded after completion of 40 case studies and successful testing.
Nurses
This continuing nursing education activity is approved by the American Holistic Nurses Association's Education www.ahna.org
This continuing nursing education activity was approved by the American Holistic Nurses Association (AHNA), an accredited approver by the American Nurses Credentialing Center's Commission on Accreditation.
Approved to award up to 273 CNE through 10/11/2019 AHNA approval #1296
Approval for contact hours through the American Holistic Nurses Association (AHNA) is based on an assessment of the educational merit of this program and does not constitute endorsement of the use of any specific modality in the care of clients.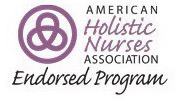 Endorsement
Clinical Aromatherapy for Health Professionals (CCAP). This program has been peer-reviewed and is endorsed by the American Holistic Nurses Association.
It was the first aromatherapy course to be endorsed by a national nursing organization. The course has been continuously endorsed since 1999. www.ahna.org
Massage Therapists
RJ Buckle Associates LLC is approved by the National Certification Board for Therapeutic Massage and Bodywork (www.ncbtmb.com) as a Continuing Education Approved Provider. Approved since 1997. Provider No 1179, thru 8/30/2019.
Disclosures

The instructors teaching Clinical Aromatherapy for Health Professionals have no conflict of interest relative to the content of this educational activity.
Research into Aromatherapy
One of the requirements of the CCAP course is to complete a small research project. Some students carry out ambitious hospital-based studies that require IRB (Internal Review Board) approval. Others complete more modest, but still interesting, studies on family and friends exploring the effects of clinical aromatherapy on insomnia, menopausal symptoms, gender preference, memory enhancement, nausea and so on.
There is new research into the clinical use of essential oils emerging all the time and it would not be possible to list it all on this website. However, there are many on-line databases, such as Medline, that will enable you to search. It is best to use the botanical name of the plant rather than 'aromatherapy'.
R.J. Buckle Associates reads and critiques every study. Typically more than 50% are suitable for publication. However, very few students actually follow this path! Getting published in a peer-reviewed journal is hard work. The best paper is not written, it is rewritten. But unless your work is out there for the world to read, what you have done will have minimal impact.
Dr. Buckle was a reviewer for NIH and NHS and says that the best research in the world has often started in a very modest way. Go on and have a try! Sometimes, a meticulously observed and documented case-study will be accepted for publication. —Dr Jane Buckle PhD, MA, RN, Cert Ed