Module I
Introduces the core concepts of clinical aromatherapy using touch and smell, emphasizing its place within the history of medical therapies, plus different clinical application methods, safety, and basic plant taxonomy. Details on how to take a clinical case-study & generic consent forms. Introduction to The 'M' Technique® on the hand. Ten essential oils are covered with evidence-based, research-backed material.
Module 2:
Outlines the chemistry and main functional groups found in essential oils, the aroma-togram and essential oils in infection. Also covered is biosynthesis and special carrier oils. Ten new essential oils.
Module 3:
Emphasizes key concepts in the clinical use of essential oils and their potential use within a health care framework with specific reference to immune system, cardiovascular, respiratory, stress, digestive, lymphatic, endocrine, and muscular-skeletal. Tutorials on research projects. Ten new essential oils.
Module 4:
Clinical use of essential oils in women's health, pediatrics, elderly, pain & palliative care and mental health. Ten new essential oils. Clinical policies and procedures are discussed. Oral presentation guidelines. Exam prep.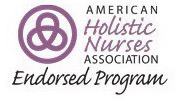 Endorsement
Clinical Aromatherapy for Health Professionals (CCAP). This program has been peer-reviewed and is endorsed by the American Holistic Nurses Association.
It was the first aromatherapy course to be endorsed by a national nursing organization. The course has been continuously endorsed since 1999. www.ahna.org